I've been playing around with JavaScript and its basic drawing capabilities. So, I thought I could use them to create something that is similar to the Fractal Future logo we currently have – yes, it's a fractal (or rather: an overlap of two fractals), but only with the second iteration displayed!
Here's how a variation of the logo with a scale parameter of 0.45 instead of phi - 1 looks with wild psychedelic colours: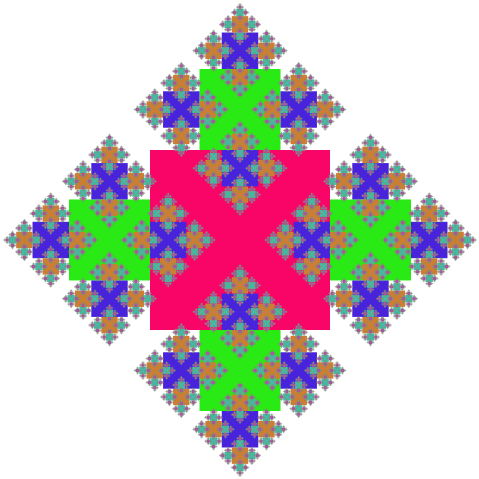 Obviously, each square spawns four adjacent baby squares. This is not what I intended, but it was way easier to program it that way, and it's interesting, too. I want to create a version in which after the second iteration each square only spawns 3 baby squares – in the directions that are not blocked by its parent square.
If you want the code that spawned this abomination, you can have it, if you ask for it!

Have you created your own crazy fractals? If so, please share them with us!

You can also share interesting fractals you've found anywhere else.